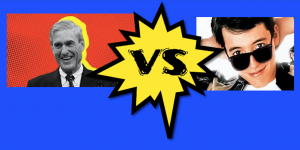 It's the next VS in our long running show
"VS – A Battle Of Art"!
Yes,
THAT

Mueller as in, "The Mueller Report". And yes,

THAT

Bueller, as in "Ferris".
C'mon down for the opening Sunday, September 8th jazz, brunch, go-big-or-go-home edition of the show!
And it all happens at The Martin, 2515 W. North Ave.
CLICK HERE FOR TIX!!!
Instagram
Instagram has returned invalid data.